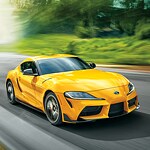 The Toyota GR Supra has one of the best engines from the automaker. The performance package makes this sports car fun to drive on any roads. Whether you are headed into work on the daily commute or you want to take the Supra to the track, the performance is amazing from start to finish. The Supra is rated at 0 to 60 in 4.1 seconds and roars to life with a twin-scrolled six-cylinder supercharged inline engine. It makes quick work to change gears with an eight-speed automatic, and you'll love the handling, too.
The gears shift so smoothly in the GR Supra. It's no wonder that the sports car has received a high-reliability rating. You can exchange the automatic shifters for paddle shifters if you want the feel of a race car. With precise steering and stable suspension, you don't have to worry about losing control on the highway or waiting for the engine to shift. The Supra is extremely capable of anything you can throw at it.
There are several packages available for the latest GR Supra. With its beautiful exterior and sporty edge, the Supra will be your favorite car to drive ever. You can take a test drive at Mark Toyota located in Plover.