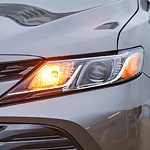 Sometimes it's the small things in life that provide joy. That's the case when it comes to driving the popular Toyota Camry. The performance of this midsize sedan will make going to the grocery store delightful.
8-Speed Automatic Transmission

The 8-speed automatic transmission in the Toyota Camry enhances its capabilities. This transmission was developed thoughtfully with fuel efficiency and optimal driving performance in mind. If you're seeking a reason to choose a Camry, this is one of many!

Direct-Injection System

?The Toyota Camry has a direct injection system in each of the engine options. This system is partly responsible for making sure the Camry has plenty of power without minimizing the incredible fuel efficiency that drivers appreciate. Enjoy high performance and save money on fuel, all while driving a stylish vehicle.
Get ready to be impressed by the Camry as you take it on a test drive here at Mark Toyota. We look forward to seeing you soon.