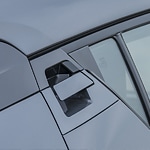 Our Mark Toyota team believes that some of the most helpful safety features are the ones that reduce the number of actions you need to take. The Toyota C-HR embraces this philosophy; this popular subcompact SUV comes with systems that are convenient and easy to use.
High beams are a great way to increase your visibility when the sun goes down. The C-HR's high beams are automatic — they turn on and off in response to the cars in front of you. That way, you always have the best lighting for any situation, all without worrying about turning the high beams on and off.
The C-HR's dynamic cruise control achieves the same goal. You just need to pick a following distance; the system maintains it by changing your speed. This makes it easier to focus on your route. To try it out, call our Plover showroom to plan a test drive.