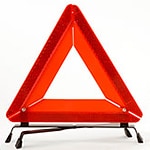 Given just how extensively they're used, even the very best vehicles can experience problems at the worst possible times. Roadside emergencies are something that most Plover motorists will deal with at one time or another. Getting ready for these events before they occur is a great way to limit the resulting problems. At Mark Toyota, we're committed to helping drivers prepare for the unexpected.
Make Sure That Your Vehicle Is Visible To Other Drivers
When you can, steer the car to road's shoulder, the emergency lane, or any other safe, out-of-the-way space. No matter where you end up stopping, you always want to make sure that your vehicle is easy to see. Set up road flares or reflective triangles right away. Alerting drivers of your presence within a reasonable stopping distance can be essential for avoiding disaster.
Don't Let A Blow Out Stop You From Getting To Safety
If one of your tires blows out, go ahead and drive on the rim until you get to a safe area. Traveling any significant distance on the rim could result in the need for a wheel replacement, but this is a fair exchange for assured safety when dealing with auto issues on a busy street. For additional ways to stay safe during a roadside emergency or to get reliable auto service, drop by Mark Toyota now.