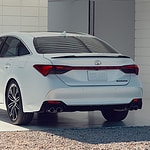 With the latest Toyota Avalon models, the performance packages have also been upgraded. The design has never looked sportier, but it's the engine options that make this large car performance-driven. While the base Avalon comes with a V6 engine, there are four-cylinder options available.
The base engine is extremely powerful. The 3.5-liter V6 offers incredible horsepower and torque while still getting a better fuel economy than most cars of the same size. If you love longer drives around Plover, you'll also enjoy the acceleration and stability handling in the Avalon, as well as driver assistance features. With sporty models like the XSE, the Avalon gets an upgrade in handling and steering. However, the Avalon TRD offers a rear slip differential for those who want an agile, fun drive.
Drivers love that Toyota offers both front-wheel and all-wheel drive options for the Avalon. At Mark Toyota, you can test drive any of the latest Avalon models to find the right choice for your family.