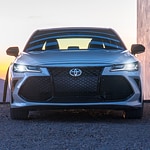 The Toyota Avalon remains Toyota's flagship sedan. Our Mark Toyota team agrees with this designation. It's spacious, comfortable, efficient and safe. It's also handsome inside and out. Take the following exterior features as examples.
Aerodynamic Front Tangential Venting
Situated on the sides of the front grille, aerodynamic front tangential vents allow air to rush freely through the frame of the Toyota Avalon. This reduces drag coefficient and makes the Toyota Avalon more aerodynamic. The result is improved handling, responsiveness and mileage.
Read More