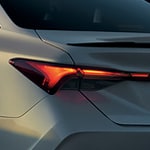 It's understandable why the Toyota Avalon is the automaker's flagship sedan. It's roomy and comfortable inside, handles smoothly and has good fuel efficiency. Its high-tech safety features are icing on the cake. Although advanced, the features are user friendly, many of them automatic. Here's a brief, closer look.
The Ultimate Cruise Control
Slowing, braking and accelerating in busy traffic is not only tedious but bad for your brakes. Introducing Dynamic Radar Cruise Control. With this nifty feature activated, the Toyota Avalon uses dynamic radar to scan the road ahead.