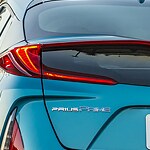 The Toyota Prius Prime is powered by a 1.8-Liter DOHC 4-cylinder engine (16-valves) with intelligent variable valve trimming and offers an impressive 121 horsepower. It also features a smart sequential multi-point EFI system with electronic throttle.
Toyota Prius is among the top environmentally-friendly vehicle that records Super Ultra Low Emissions (SULEV) of 30 with Transition Zero Emission. This makes it the go-to vehicle for those who want to go green. Toyota has equipped this vehicle with the most optimum performance features to make it an ideal everyday car for the family.
The Prius can produce a significant amount of torque while saving fuel consumption. This budget-friendly EV features an aerodynamic exterior that reduces the air resistance and enables the vehicle to achieve high speeds on the highway. The Li-ion battery that comes standard with the Prius prime will charge faster and offer you a longer range per charge. This eliminates the need to charge the batteries every time.